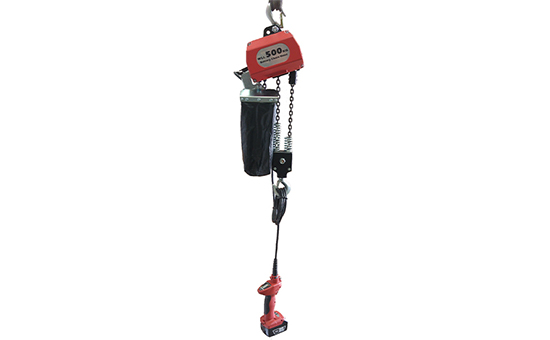 PROBLEM
Sometimes dealing with difficult environments can hinder the usability of standard hoists. Flexibility and access to power are key considerations within these environments. 
SOLUTION
Ideal for use where hardwired power is not possible, the hoists operate from a single Li-ion rechargeable battery. Two models are available offering a maximum rated capacity of 250kg or 500kg.
The hoists include as standard excellent safety features such as LED traffic light (green/amber/red) style load display to quickly and easily show when the hoist is being overloaded. There is also a warning buzzer to indicate when overloading has occurred.
This hoist can easily be taken down and moved from one location to another. And with two batteries included with your purchase, you can continue working with one battery while the next is charging.
A battery hoist is particularly useful at non-standard work sites including outdoor sites such as farms or forestry, plumbing or electrical work outside of existing buildings and buildings under construction.
These hoists can be easily integrated into any existing or new Altrac crane setup. It is particularly well suited to Mobi Trac, the portable Altrac crane system.
OUTCOME
With a system that provides both access to power and flexibility the customer does not have to worry about the difficulties of working at non-standard work sites. This allows them to get on with their job and have the peace of mind knowing that they have safe and reliable equipment to do the heavy lifting when and where they need it.
For more information on how we can provide you with an ideal lifting solution please contact us, request a quote online, or call 61 3 9796 5300