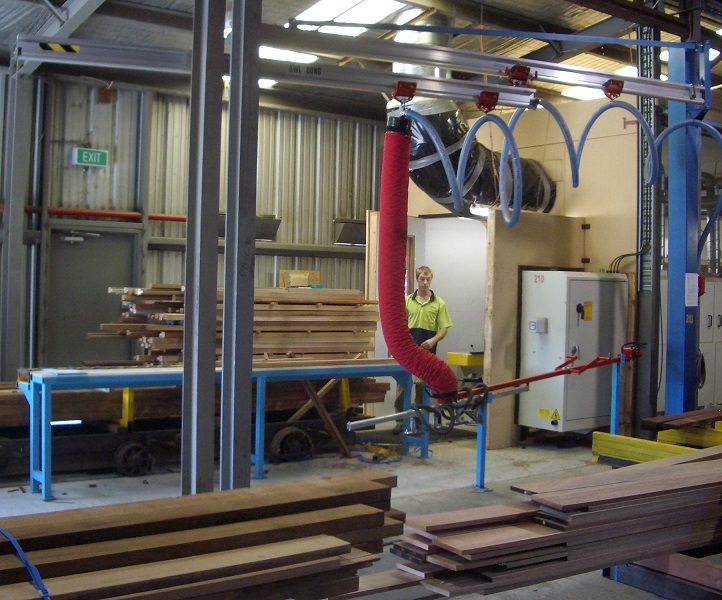 Problem
Our customer, Canterbury Doors & Windows, needed to lift rough-sawn timbers from their incoming goods area onto a roller conveyor that fed into a soundproof room containing a planer for dressing the timber lengths. The incoming goods had to be delivered through a doorway parallel to the machine.
A building support column was directly in the way of production line flow, which did not allow traditional material handling solutions to be used. The timbers needed to be lifted and moved around this column in order to reach their destination. The result was the 80kg timbers had to be physically lifted and shifted by hand, creating great potential risk for injury and very little opportunity to improve productivity.
The option to relocate the machinery or change the building structure would have been extremely expensive and also resulted in a long period of production downtime.
Solution
The Bomac team custom-designed a cathead jib system that was able to accommodate this unusual layout. The cathead setup uses two separate pieces instead of a traditional single-beam jib arm. One of the arm pieces can extend out from the jib and then pull back in.
This allows the crane arm to extend past one side of the column to retrieve the timbers from the storage area, lift the timbers, retract, slew past the troublesome building column and then extend back out on the other side of the column and place them onto the conveyor.
The main arm of the jib is 4500mm with a 1500mm retractable extension, allowing it to reach to a maximum of 6000mm. Lifting is undertaken with a Vaculex vacuum lifter with extended operating control arms to accommodate the jib.
Outcome
Manual handling has been eliminated, allowing for the entire operation to be undertaken by one person. The flow of materials is now quicker and more ergonomic. The solution works with the current layout and workflow, causing only minimal disruption to install the jib, and with no infrastructure changes required.
It proved to be an extremely cost-effective solution for a tricky location, and has improved both safety and productivity.
For more information on how we can provide you with a custom lifting solution please contact us, get a quote online, or call 61 3 9796 5300
Industry:
manufacturing, doors, windows, timber