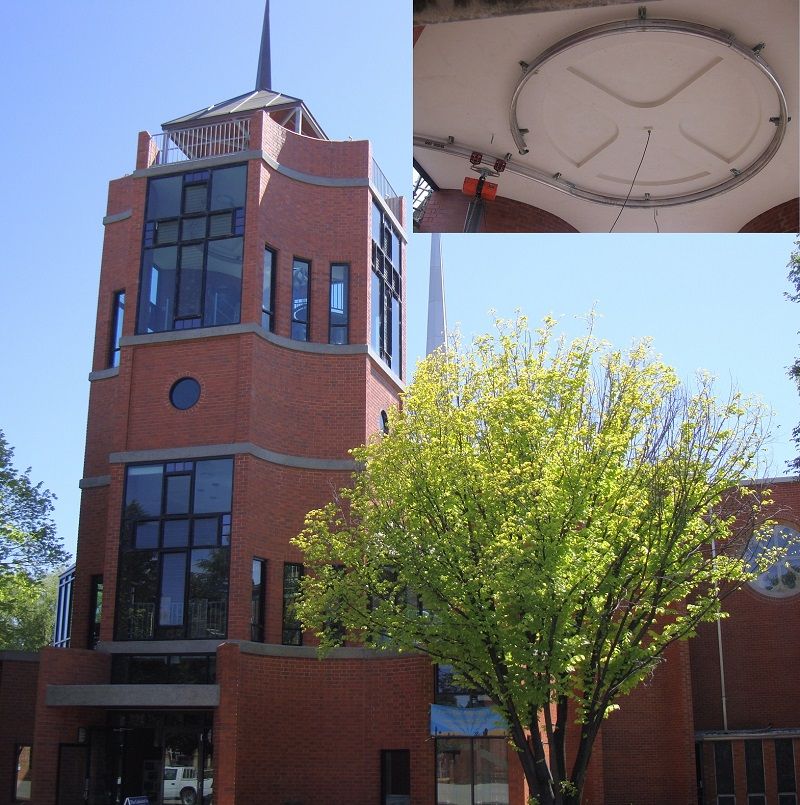 Problem
The Bathurst Cathedral had raised funds to refurbish and retune its collection of bells from 1855, and to build a beautiful new tower in which to house them. They did not want to leave the bells in a position where they would again become damaged and out of tune due to lack of maintenance. 
They needed a way to move and maintain the bells, which collectively weigh more than 1 ½ tons, without affecting the function of the bells or the aesthetics of the striking new tower. 
Solution
Bomac created a custom rolled curved Altrac monorail to suit the required layout of the bells. Each bell (weighing from 200 to 500kg each) could be moved into place using the monorail, and then transferred to its mounting point. 
The bells were moved using an electric hoist. To avoid the visual disturbance of a catenary system to power the hoist, a power point was installed in the centre of the circle, allowing a fixed length attachment that could follow the hoist as it moved around the curve. Once all the bells were in place, the trolleys, load bar and hoist could be removed from the track.
Outcome
A functional, yet visually unobtrusive monorail now sits quietly in the top of the Bathurst Bell Tower. From time to time, the trolleys and hoist will be placed on the rail to access individual bells for routine maintenance, retuning and, perhaps, repairs as needed.
Bomac is very pleased to be a small part of this historical collection of bells. The Altrac rail itself will not need extensive or ongoing maintenance in the years to come. We are proud to have contributed to extending the life and functionality of these bells and that in another 160 years they will still be ringing out over the city of Bathurst, looking and sounding just as they did when they arrived at the Cathedral in 1855.
For more information on how we can provide you with lifting solutions for almost anything please contact us, get a quote online, or call 61 3 9796 5300
To learn more about the historic bells at the Bathurst Cathedral, please visit the Bathurst Bell Ringers website.
Industry:
Historic, Materials Handling
Product Application:
Curved Monorail, Electric Hoist