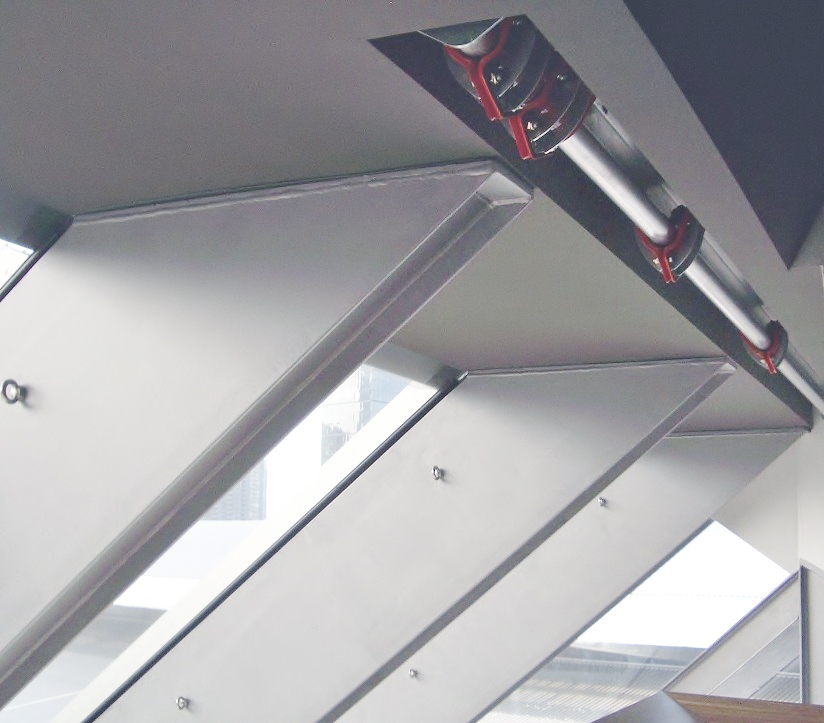 Problem
When the Melbourne Convention Exhibition Centre added new glass front convention space, it took in the views of the picturesque Yarra River, the historical Polly Woodside and the city of Melbourne with floor-to-ceiling glass panels along the building frontage. The glass panels needed to be accessed for frequent cleaning and occasional maintenance without distracting from the external views and while complementing the award-winning architecture of the building.
The MCEC hosts about 1,000 events per year and has foot traffic coming and going throughout almost every day. The façade is also close to stairways and sloped portions in the roof. 
These factors mean that using scaffolding to access the façade would be dangerous. To reach to the maximum height of the glass with an elevated work platform would require one with a diesel engine, again posing a risk to visitors within the building due to the fumes. Any of this equipment would also need to be stored when not in use, and the Centre did not want to use its limited storage space for this purpose.
Solution
An Altrac fall arrest system was able to avoid all of these potential safety issues. The system is not only mounted up in the roof, but within specially built recesses so that it does not affect foot traffic below or the architectural lines of the building.
The glass can be accessed for cleaning or maintenance at any time required, without undue delays sourcing equipment. The long rails also offer continuous access to the entire length of the façade without constantly moving scaffolding or powered lifting equipment.
A series of eyelets along the beams running down the panels, allows access to the angles without interrupting the views.
Outcome
This world-class building can maintain its world-class views at all times. The city of Melbourne and the Yarra River are beautifully showcased to local, national and international visitors attending events at the building.
If visitors look up and peek into the ceiling recesses, they can also catch a glimpse of Australian Innovation.
 
For more information on how we can provide you with an ideal fall arrest solution please contact us, get a quote online, or call 61 3 9796 5300.
Industry:
architecture, glass facade
Product Application:
fall arrest, height safety