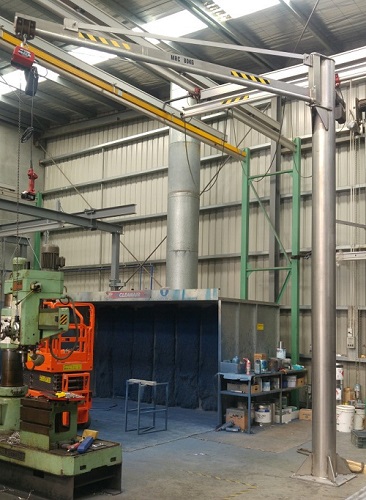 Problem
Murray Goulburn dairy manufacturing needed to access a 3T motor in a milk powder drying facility. The large, heavy cables were in the way and made it difficult to access the motor when needed. However, the entire interior of the silo is involved in spraying milk and drying it into powder so any equipment located inside it needed to be food grade quality.
Solution
Bomac Engineering was able to manufacture a jib crane to easily move the thick, heavy cabling aside to access the motor. The entire body of the jib is stainless steel. The trolley and electric chain hoist body were finished with e-coating, and all other components (nuts, bolts, wheels, etc) were stainless steel, creating a fully food grade quality crane.
Outcome
The motor can now be accessed easily and quickly for regular inspection as well as repair as needed with minimal down time and without compromising food safety or sterility of the environment.
 
For more information on how we can provide you with a food grade lifting solution please contact us, get a quote online, or call 61 3 9796 5300
Industry:
Food Manufacturing, Dairy Production
Product Application:
Stainless Steel Jib Crane