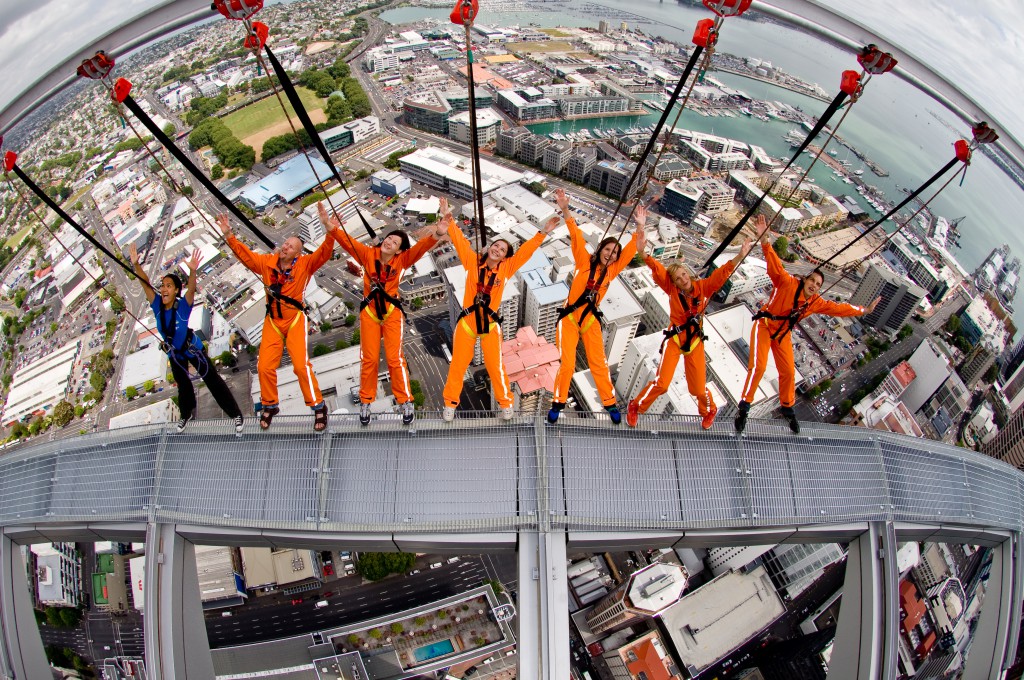 Problem
The Sky Tower in Auckland was looking for a way to provide its visitors with an experience different to others at similar towers. There are now many towers around the world that offer great views of cities, but they are within a glass enclosure or with balustrades and handrails interrupting those views and the photo opportunity they offer. Although it had given guests 20 years of stunning Auckland views, Sky Tower now wanted to give visitors a view like no other.
Solution
Bomac was able to create a 360 degree fall arrest system to encircle the building, allowing visitors to strap safely into a harness and walk along a platform. This Altrac system is now known as Sky Walk (link to Sky Walk web page). This system is safe enough to allow Sky Tower to take away the window frames and handrails and give visitors an uninterrupted view of the city and harbour. The strength of Altrac allows a large group to enjoy this experience together while the aesthetics of the extrusion complements this wonderful structure in the sky. Check out a video of this adreneline pumping experience.
Outcome
Bomac is very proud of this high-profile export. This was the first project of its kind for Bomac and has opened the door to the adventure industry. Our engineers have really enjoyed the new challenges of designing systems that are not only safe and attractive, but also just plain fun.
A Bomac engineer will soon be travelling to South Korea to install a similar system for Adventure Korea in Hanam City, near Seoul. Bomac is so pleased to see Aussie technology and innovation making adventure fun and safe all around the world.
For more information on how we can provide you with a tailored adventure solution please contact us, get a quote online, or call 61 3 9796 5300