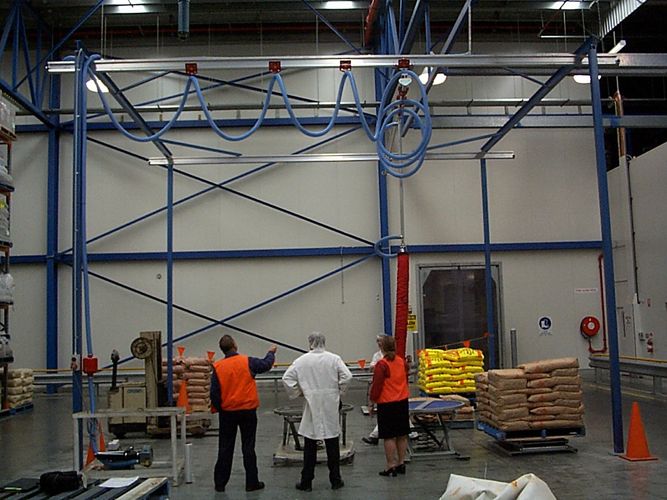 Problem
The customer's application involved lifting a range of different products for batch recipe processing. Sometimes the customer had to lift 25kg of product in paper bags, cardboard boxes or items were wrapped in plastic. Not only was each batch recipe different as well as the products but the customer wanted to keep forklift and pedestrian traffic separated to maintain good OH&S practices.
Solution
Using a tube vacuum lifter combined with the right suction foot and pump combination the customer was able to handle the various products they required. Boxes, paper bags and plastic wrapped goods were all able to be handled in a safe and efficient manner. Using this in conjunction with a freestanding gantry crane the customer was able to have inward goods coming from one side and outward bound batched recipes from the other. This allowed separation between the operator and forklifts by being located in between these 'load in' and 'load out' zones
Outcome
The customer now has a solution that can handle all the products they are wanting to handle. With a well laid out design the customer has managed to optimise work flow and handling efficiency. The ability for Bomac to recognise the customers wants and then calculate the correct vacuum lifting device for their needs meant that a fast and low cost solution could be delivered that did not cause any risk to the operator or the product they were handling.
For more information on how we can provide you with an ideal lifting solution please contact us, request a quote online, or call 61 3 9796 5300