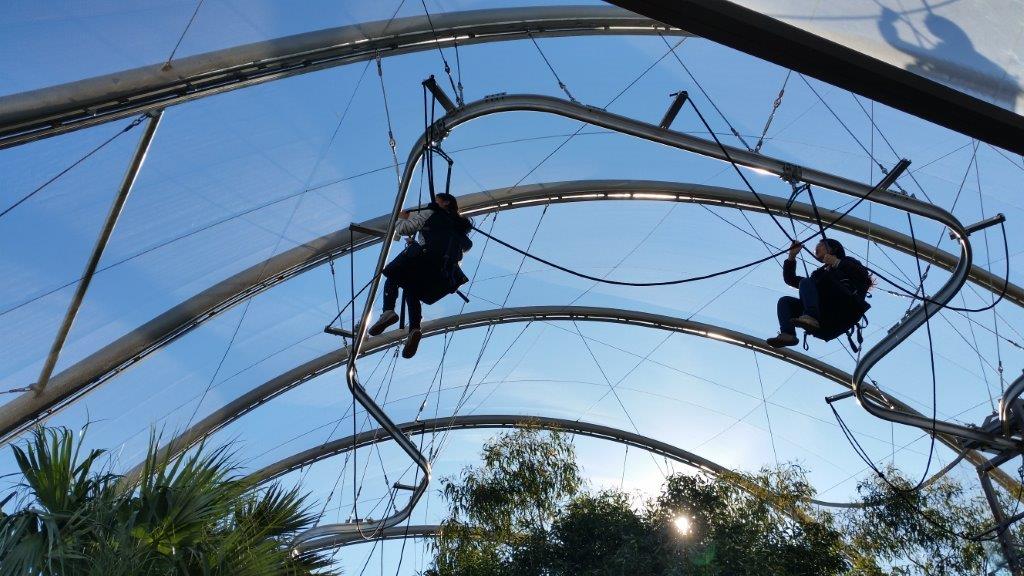 Problem 
In a competitive world, zoos and other entertainment venues are always looking for the edge that will attract more visitors to their site. Customers are looking for a unique experience they can share with family and friends while management are looking for an event that will cater for all and have a wide appeal to customers. 
Solution 
Working with a variety of business groups, Bomac helped develop an attraction with a difference for WILD LIFE Zoo in Sydney. Utilising the lightweight nature of the Altrac rail and its ability to be rolled to angles, Bomac engineered a system - WILD Flight - which allowed its users to soar through the sky in harnesses at their own pace and comfort. This system was able to take advantage of the existing structure so there was not a significant investment in upgrading or building new support structures. The system was also fairly unobtrusive and worked in harmony with the bird wildlife in this enclosure. The high strength and span capacity of the system meant that multiple users could use the system at once so families could be catered for as a group and experience this wonderful journey together. 
Outcome
The ability to take advantage of a previously unutilised zone was a real advantage for the zoo which re-energised and attracted more visitors to this region. Families can now experience a unique event together as a group and experience a relaxed and self-paced adventure that allows them to connect with nature from a different perspective. It has also allowed visitors to enjoy the breathtaking vistas of the city from this space among the tree tops. Management is also happy they have been able to offer the customers something truly different that has the ability for high capacity and will increase patronage. As the system did not require a large investment in downtime nor the development of large new structures, the decision to move ahead with this cost-effective project was an easy one to make. The system still honours the well-being and purpose of the main exhibit with minimal impact on the animals within the enclosure.
Click here for a video of WILD Flight in action
For more information on how we can provide you with a tailored adventure solution please contact us, get a quote online, or call 61 3 9796 5300