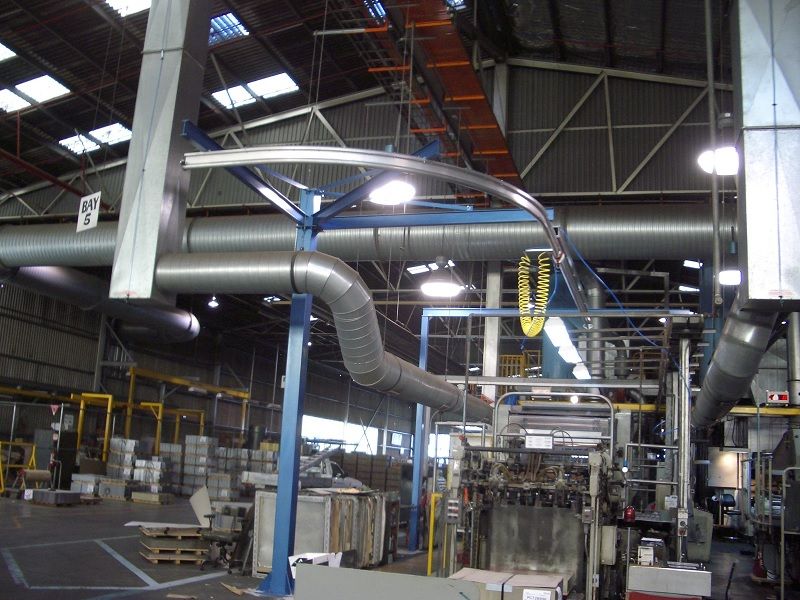 Problem
The customer needed to unload and load printing drums into their machine. With an ageing workforce manual lifting these units in and out of position was becoming difficult. Unfortunately, due to the system layout, they could not simply lift the printing drum out to one side of the machine and moving it to the end of the machine was not possible either, as this area was designated for loading the raw printing material into the machine. In addition, ducting and other head height issues also needed to be taken into consideration.
Solution
Working with Bomac Engineers the customer was able to identify an area off to one side where the drums could be load and unloaded from the machine. This however was not a straight path from one point to the other. Bomac was able to provide a curved monorail and air hoist to meet the customer's needs. One of the advantages of the curved monorail was that a post could be located in a position where it was not an issue for forklift traffic.
Outcome
With the flexibility of an Altrac monorail system the customer was able to lift and position his load exactly where it needed to be located. When conventional solutions where not available Bomac was able to custom design a rail system at a low cost providing them with the right solution. The customer now has a way to move their printing drums in and out of there presses while protecting their most experienced workers.
For more information on how we can provide you with an ideal lifting solution please contact us, request a quote online, or call 61 3 9796 5300