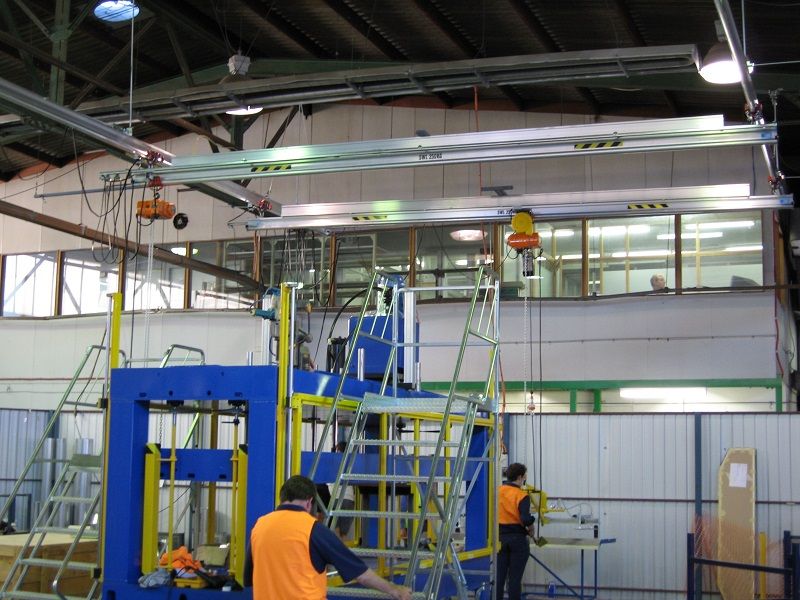 Problem
A new process line was being installed for this manufacturer to make foam panelling for their products. They needed to be able to unload and move the foam-injected panels for packaging while the raw materials for a new panel were loaded into the machine. Access in and around the machine from all sides was also paramount and the customer wanted as much floor space available as possible.
Solution
The lightweight construction of the Altrac rail allowed the system to be mounted to the existing roof structure. With the addition of Strongbac, the system was able to carry the weight on a very wide cross travel with large distances between supports. The system was also designed with two cross travel rails so that simultaneous operations of loading and unloading the machine could take place
The lifting mechanism used in this project is also unique in that it functions as an independent vacuum pack and does not require an external pump. This provides a much larger range of movement, allowing it to travel the length and width of the gantry system.
Outcome
By utilising the Altrac system the client was not placing a large amount of dead mass on his roof structure allowing them better utilisation of floor space and a reduction in cost as there was no need for a steel structure. The use of two cross travel rails allowed an increase in productivity and continuous utilisation of the machine so they could meet production targets without having to invest in another machine.
For more information on how we can provide you with an ideal lifting solution please contact us, request a quote online, or call 61 3 9796 5300