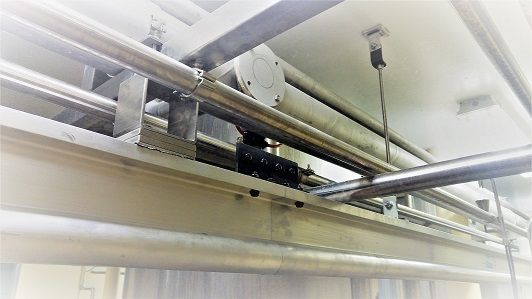 Problem 
Our customer needed the capability to lift electric motors (30kg+) in an area:
with low headroom (2.5m high).
corrosive conditions, and
a large number of services running through the space.
The problem was further complicated due to constant flooding of the floor from the manufacturing process. This meant all floor mounted equipment had to be on raised footings. While the underside of a concrete floor was available, the services suspended from the roof occupied the first 700mm of head space. The lifting height was effectively reduced a further 400mm as all the motors were sitting on concrete plinths.
Before installing the Altrac system, the customer potentially exposed their workers to the risks of manual handling. There was also considerable downtime as pump failure regularly occurred. 
Solution
The customer contacted Bomac to outline the issues they were facing and to seek advice. We assisted the customer:
Through a short on-site consultation process where we advised on the available lifting solutions.We also discussed how to configure an ideal lifting solution to meet the requirements of the client, while also allowing for space restrictions and the complications caused by flooding.
We then custom designed the Bomac Altrac Monorail for their unique situation. 
Our Bomac Altrac Monorail system was able to utilise an existing steel structure and be secured to the concrete roof at various positions. The compact dimensions of the monorail, trolley and manual hoist combination allowed the system to be installed amongst the services with minimum loss of height. The aluminium rail, e-coated and stainless steel trolley and brackets also meant that the system was suitable for use in the corrosive environment. 
The system was installed quickly and efficiently in 1 day without disturbance to production. The ongoing operational excellence of the monorail system is assured  with an Altrac qualified engineer completing an on-site service every 3 months.
Outcome
The Bomac Altrac Monorail solution ensured:
An extremely user-friendly outcome that reduces operator effort.
The health and safety of the operator is prioritised. The client can easily access and maintain the operations of the motors in this pump room. Removing a motor from this area is no longer a dangerous task.
The operator can now lift the motor from its plinth and  place it on a trolley and wheel it out of the area without breaking a sweat.
Valuable space is maximised.
The high quality components of the Monorail solution combined with regular servicing means the system will easily cope with the corrosive environment for the next 10 years.
For more information on how we can provide you with an ideal lifting solution please contact us, get a quote online, or call 61 3 9796 5300