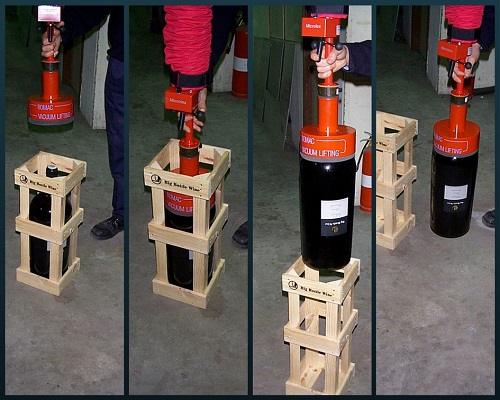 Problem
The customer Big Bottle Wine needed to unpack and move 9L bottles of wine. They received the bottles tightly packed in wooden crates, making it awkward for workers to lift the 25kg. They were packed too tightly to reach arms in and lift from the base, and the neck of the bottle could be difficult to grip and hold for lifting.
Solution
Bomac custom-designed a vacuum lifting foot that attached perfectly over the neck of the bottle. Glass provides an excellent surface for vacuum lifting, so it was a matter of creating the right shape for the specific items.
Outcome
The customer now suffers less damaged stock. The workers can move the bottles much more quickly and efficiently, and with less risk of injury from trying to manhandle the awkward items.
For more information on how we can provide you with an ideal lifting solution please contact us, get a quote online, or call 61 3 9796 5300
Industry:
Wine Production, Materials Handling