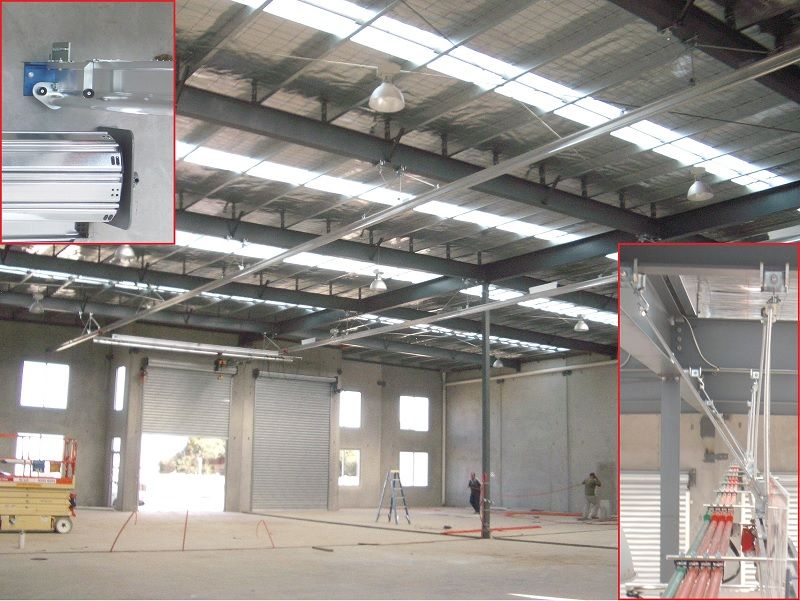 Problem
Our customer Hufcor (www.hufcor.com.au) was building new manufacturing facilities and wanted to plan in a materials handling system to be installed ready to go as soon as the building was complete. They would be lifting and moving large, sound proof panels to be made into retractable accordion room dividers. The manufacturing facility was incorporating the floor space that would usually accommodate 4 factories, and so was twice as long and twice as wide as similar facilities. The crane would need to move end to end, to allow loading and unloading of trucks at both ends. Ideally, it would go right up to the roller doors for maximum coverage.
The customer wanted to keep as much floor space clear as possible, but did not want to incur extra costs modifying the building itself to accommodate the crane. Additionally, they wanted to ensure the crane could be easily upgraded if manufacturing requirements increased or changed.
Solution
The solution was a roof mounted Altrac gantry crane. Thanks to the lightweight Altrac product, it could be easily mounted into existing roof structures without any modifications to the building, leaving the floor space open. Although the roofline dropped from one end of the building to the other, this was easily accommodated by installing the crane with droppers so the height could be adjusted to suit each section and keep the crane level.
The extra-wide cross travel requirement was met with the use of StrongBac, an equally lightweight aluminium product from Bomac that adds stiffness to Altrac, allowing longer spans between supports.
A Busbar system was used to bring power to the hoist, avoiding the issue of cabling hanging down and allowing the long travel rails to go completely end-to-end. This means the cross travel rail can be brought right up to the roller door at either end without restriction.
Outcome
Hufcor now have maximum crane coverage with minimal impact on floor space. No costly building upgrades were required. The customer can use their crane along every last cm of the length of the building and thanks to the adaptability of the Altrac system, additional cross travel beams could be installed in the future so the crane can adjust to suit the customer's changing manufacturing requirements.
For more information on how we can provide you with custom lifting solutions please contact us, get a quote online, or call 61 3 9796 5300
Industry:
Manufacturing, Room Dividers, Moveable Walls
Product Application:
Roof Mounted Gantry, Busbar system, Electric Hoist