Date:
Wednesday, July 19, 2017 - 22:15
Altrac is often the best choice for clean room applications such as food and pharmaceutical manufacturing.
The extruded aluminium rail is naturally dust free. The rounded shape and external running trolleys offer no flat surface for dust or debris to settle, unlike many enclosed systems which often catch and hold contaminants.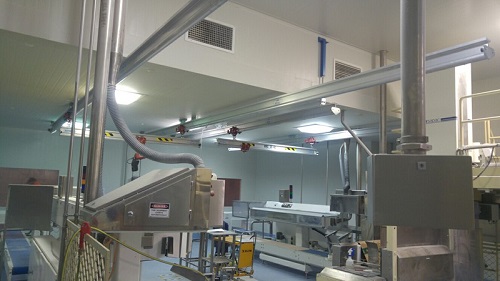 Aluminium itself is a perfect material for many clean applications as it does not rust and doesn't require a coating that could flake off. It doesn't corrode in salty environments and can hold its own in the hottest and coldest of manufacturing situations. (Aluminium is not suitable for areas with caustic wash down, but Bomac Engineering can offer solutions to suit those environments as well.)
To tailor an Altrac system to a non-caustic clean room environment, very little modification is required. All Trac Trolley components can be made of stainless steel and the trolley bodies finished with an e-coat that is FDA approved and will not chip or flake off. 
This e-coat and stainless steel combination can also be used for mounting brackets, hardwired chain block hoists, battery operated chain block hoists, and other accessories.
Support structures, if required, can also be made of stainless steel. And so can the chemical anchors to secure the footings to the ground. Many customers are also surprised to learn that fully stainless vacuum lifters are also available.
All stainless components, as well as the aluminium, can be polished to the required level.
Of course, in addition to these specialty benefits, all the usual benefits of an Altrac system also apply. It's lightweight and can often be mounted to existing structure. It's easy to install, easy to use and easy to upgrade down the track if production increases. It is also Australian made with the highest quality materials and exceeds all ASNZ safety standards. 
So if you need to lift and shift items within a clean environment, contact Bomac for a quote now for a clean, safer and more productive manufacturing environment.
For more information on how we can provide you with a food grade lifting solution please contact us, get a quote online, or call 61 3 9796 5300